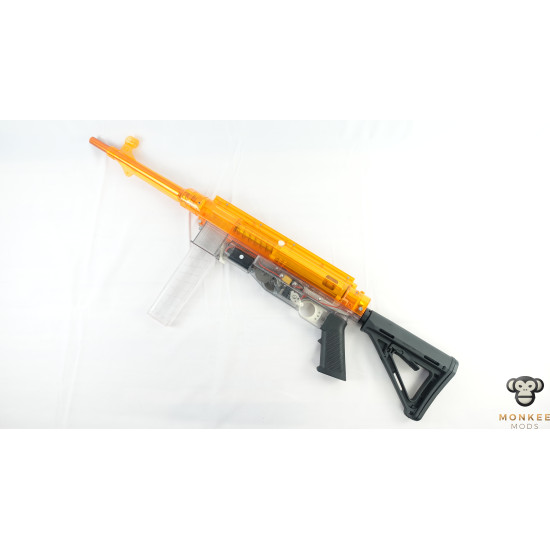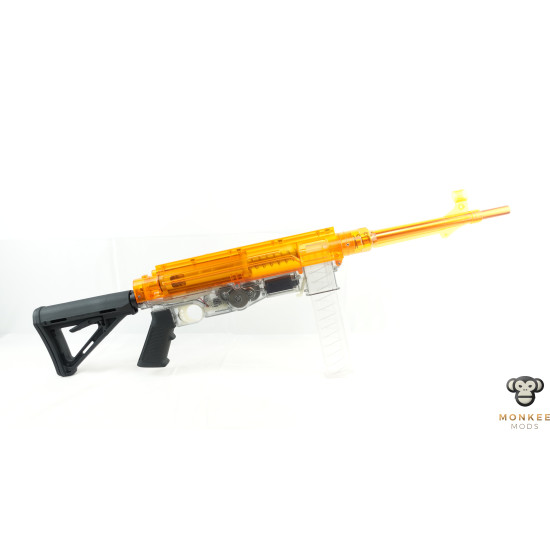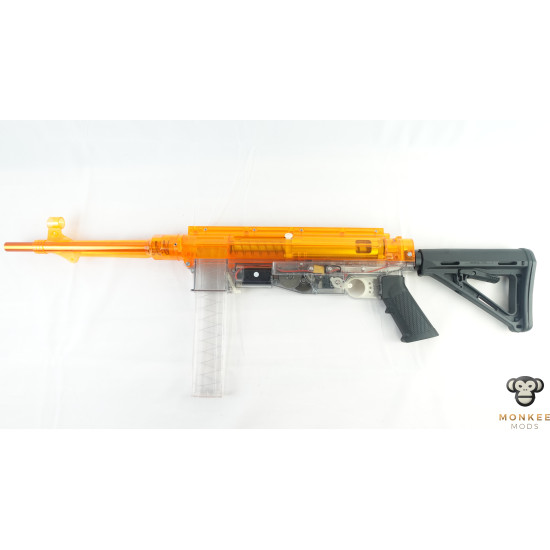 Out Of Stock




Colonel Wasp x Monkee Mods 76 Blaster
Stock:

Out Of Stock

Model:

Colonel Wasp x Monkee Mods 76 Blaster

Weight:

3.00kg
We know you guys been waiting long for this but the Colonel Wasp x Monkee Mods 76 Blaster is finally here. You can read more about this blaster in this blog post
This version of 76 blaster that we have is based on the A1 Revision which is an improved version compared to the original release of 76. It came with more safety feature such as overheat/jam protection and a revised receiver shell which rectified a few weak point.
In our version of 76, we made some changes that we think will benefit our customers a lot. For a start, we threw in an AEG buffer tube, then rewire it to the rear using a Mini Tamiya battery connector instead. The original 76 came with SM head which is hard to find outside of China. Not only that, it was wired to the pistol grip, which will limit the batteries you can use. We have been asked before, why XT-60 wasn't chosen considering it's a Nerf hobby standard connector. The answer is, to our knowledge at least, there isn't any XT-60 battery that will fit into an airsoft AEG buffer tube. If you are an airsoft player, Mini Tamiya should be a common sight for you and you can easily get a lot of Mini Tamiya airsoft batteries from site like HobbyKing. The 76 will be using the 11.1v batteries.
Box Dimensions: 36cm x 26cm x 4cm
Buttstock used with the blaster in the picture is for illustration purposes. Buttstock is sold separately.
Notes from Monkee Mods (2/11/2022):
After a long wait, the Colonel Wasp X Monkee Mods 76 Blaster is back in stock. This time the blaster come with new updates and tuning from Monkee Mods.
- The upgrade spring that was included in the package, now it's preinstalled in the blaster instead of the stock spring. (The stock spring will still be included in the package).
- This upgrade spring able to achieve around 220+FPS with QWK EPP/Worker stefan Gen3 darts, while 205+FPS with Worker Gen2 HE darts.
- The pusher and piston had been upgraded to CNC aluminum for higher durability.
- Now the blaster comes in Transparent Orange Upper Receiver with Transparent Grey lower Receiver.
UPDATE!!!!(19/8/2022)
This batch will not include the short barrel, will only include the MM 30cm Aluminum barrel
UPDATE!!!
Blaster comes partially disassembled. You may need to:
- Put together the upper receiver& lower receiver
- Attach the dart gate into the barrel
- Install the barrel shroud
- Buffer tube installation at the end
For the installation guide, Click HERE or watch the guide down here
NOTE!!:
Due to regulation in Australia, the pistol grip will NOT be sold together with the blaster. Kindly place the option 'Without grip' for Australian customers. Do understand the risks that you take when purchasing this blaster with the grip.
PS: The shipment of this new batch of blaster ESTIMATE SHIPPING PEROID: Early January 2023
Colour: Transparent Orange Upper Receiver with Transparent Grey Lower Receiver Only