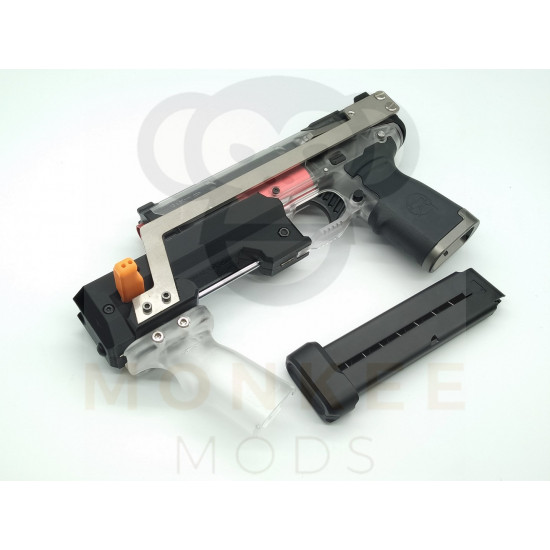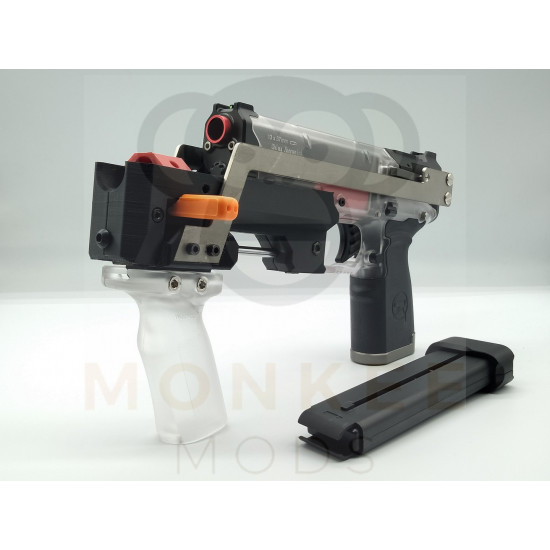 Out Of Stock

S200 Basic Carbine Bodykit
The New body kit for the ZWQ S200 unit.
This bodykit makes your preferred S200 unit look like a carbine unit. This body kit will give your S200 blaster a significant weight increase and will make it front heavy.
This bodykit unit also has a placement for your laser pointer unit (most likely a simple laser pointer instead of the special tacticool looking laser pointer units in our shop). This unit has the main bodykit pre-built.
This unit will come with a pack of L-end hex screwdrivers, hex head screws, pin replacements for the priming block with the screws, and a pair of priming bar.
The priming block does have the picatinny rail to accommodate grips. Recommended to use the Worker Slanted Grip with this carbine bodykit
NOTE!!: This body kit is NOT under ZWQ and the parts are 3D printed, extra care is needed when using this body kit.
Highly recommended in HvZ (Human versus Zombie) games.
Slanted Grip in the picture does NOT come together with the kit. They are sold separately.
NOTE!!: Kindly look at our blog post to have the Installation guide.
Colour: Black ONLY.
Stock:

Out Of Stock

Model:

S200 Basic Carbine Bodykit

Weight:

1.00kg